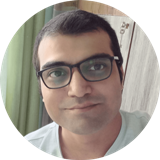 Hello Fellow Bloggers,
My name is Vishwajeet Kumar. I am a Digital Marketer and Full-time Blogger. I live in Siliguri, West Bengal. I am the owner and founder of this Blog. I have completed my B.B.A From Jaipur National University. I have been in the blogging field for more than 5 years.
I help newbie bloggers to start and grow their blogs. I am a successful Blogger, Entrepreneur, and Digital Marketer.
Besides Blogging, I love to do website designing and Freelance Writing. I am also helping beginners to learn blogging, SEO, and affiliate marketing.
---
My Blogging Journey
Blogging has now become my passion and I realize it when I have written a few articles for my clients. It really encourages me a lot to write more articles. A few years back when I was just writing articles for fun and a few bucks as well :), I did not understand the credibility of blogging. With the span of time, I have started reading the success stories of the bloggers who are making thousands of dollars from blogging. Which has inspired me a lot?
Reading the success stories of bloggers motivates me a lot and encourages me to start my own blog. Since I belong to a Middle-class family and according to Our Indian society blogging is still not a valid option for an individual's career. But I found myself very lucky.
I have got full encouragement and motivation from my family members, especially from my Mother and My elder brother. Both of them really motivates me a lot. Soon after getting encouragement from my family, I have chosen to blog as a full-time career option
---
About BloggingPond
Bloggingpond is a small initiative from my side to help newbie bloggers to learn more about Blogging, SEO, WordPress, Affiliate Marketing. In this blog, you will find proven blogging, SEO, and Marketing Tips.
Our Email id:
imjenniferparker@gmail.com