Blogging is not just a passion now. It is now a proven business model. In this post, I am going to show you how to start a blog and make money from it.
Blogging gives you the ease of making money online with your passion and knowledge. All you need is to follow your passion and start a blog. I always think of blogging is a digital revolution that allows you to start your online venture in your own comfort zone.
What is a Blog?
Blogging needs a blog. A Blog is an online portal where you follow your passion and knowledge. A blog allows you to share your knowledge with people around the globe. The days are gone when you are considering a blog just for sharing your thoughts and knowledge.
You can now start a blog and make money from it. So, if you are still wondering how to start a blog then sit tight and I will elaborate everything to you.
How to Start a Blog?
Starting a blog is not rocket science. All you need is to have a domain name and hosting. A domain name is known as the online address of your blog. People find and browse your blog through your domain.
Finding a domain name is very important. Keep your domain name short and punchy. Your domain name also needs to be easily remembered.
To register a domain name, I highly recommend you to Buy it from NameCheap. Click here to register your domain name with NameCheap.
Search for your desired domain name and if it's available then select it and make the payment to confirm the domain name.
Buy a Web Hosting
After registering your domain name, you need to buy a web hosting to host your domain. Hosting provides you enough resources and tools to start a blog on your domain.
There are plenty of web hosting companies are out there. Finding a reliable one is very important. Because poor and cheap web hosting can ruin your blog.
A Good Web hosting company provides:
Adequate server resources.
Good network uptime.
Free SSL certificates.
Best Customer support.
For best web hosting, I recommend Hostgator. They are one of the best and reliable web hosting providers. They have currently hosted more than millions of domains.
Hostgator also one of the oldest players in the web hosting industry. You will get quality web hosting services at very affordable pricing.
Click here to sign up with Hostgator. I suggest you go with their "Baby" Plan. It will give you enough resources to start and grow your blog.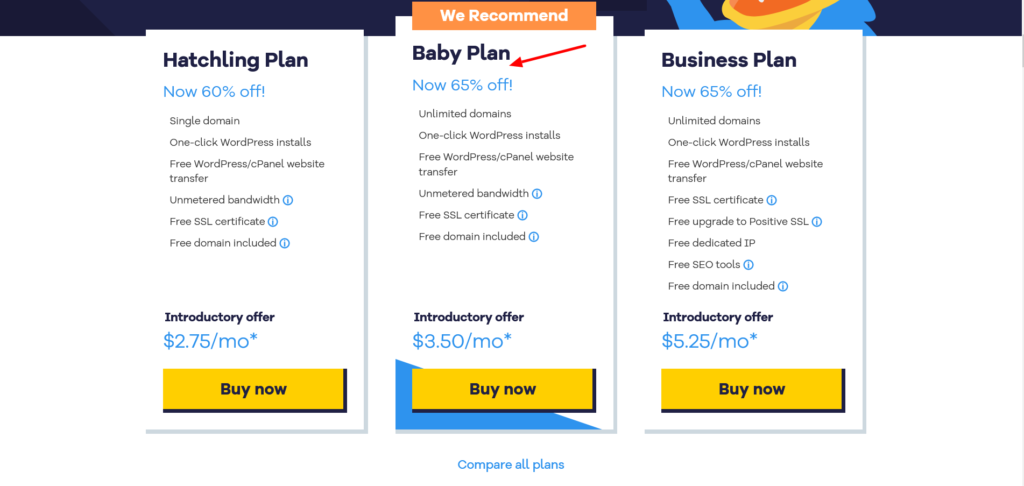 I recommend buying it for 36 months. So, you need to worry about hosting renewal and focus on growing your blog.
In the "Baby" plan you will get the following resources:
Unlimited domains
One-click WordPress installs
Free WordPress/cPanel website transfer
Unmetered bandwidth
Free SSL certificate and Free domain included
Select the plan and fill the customer details. Now, complete the payment and your hosting will activated immediately.
Install WordPress
When you have bought the domain name and hosting, now you have to install WordPress on your domain. But before you install WordPress on your domain, you need to change the nameserver of your domain.
To change the nameserver, login to your Namecheap account. Click the "manage" button just right to your domain.

Now here you will find the option to change the nameserver. Select the custom from the list and add the nameserver of your hosting that you bought from HostGator.

Click save and wait for 24 to 48 hours to propagate the nameserver. When your domain and hosting woks perfectly now, you have to install WordPress on your domain.
Note:- if you bought the domain name and hosting from the same place then there is no need to change the nameserver.
To install WordPress, login to your Cpanel. In the softaculous section select WordPress.

Insert the basic details like Site name and description. Your admin username and password and hit the install button. Within a few seconds, your WordPress will be installed.
What after installing the WordPress?
After installing WordPress on your blog, you need to design and add the necessary pages to your blog. Some of the necessary pages that you must have on your blog are:
About us Page
Privacy Policy
Disclaimer
Contact Us
These pages are necessary to have on your blog. These pages ensure your readers that who you are and what your blog is about.
Start creating quality content on your blog. Content plays a great role on your Blog. You need to frequently add and update your content.
Install Necessary Plugins
Now when your blog is all set. You need to install few necessary plugins that help you to optimize your blog.
Yoast SEO: – This is a great SEO plugin. It helps you to optimize your blog for better ranking in search engines. You can also create XML-Sitemap using it. It also helps you to customize your Blog Meta tags and taxonomies.
WP Fastest Cache: – This is a great Plugin to speed up your blog performance. It will optimize your blog files and CSS to load faster in web browsers. It also minifies your JavaScript and other resources to load faster.
WPSmush:- It is a great Plugin to optimize your images. You can resize and optimize your blog images easily with this plugin. WPSmush will automatically optimize images when you upload a new one.
WPForms: – It allows you to create professional contact forms, feedback forms, subscription forms, payment forms, and other types of forms for your site in just a few minutes.
All In One WP Security & Firewall:– WordPress is indeed a secure platform. However, security matters a lot. This is a complete Security Plugin that helps you to protect your blog from various security threats. It also stops bot traffic from coming to your blog.
Step 8. Install a Theme on your Blog
Install a Premium Theme on your blog. You can find various free themes from WordPress theme directories. However, I believe that free themes are not good as they are not being updated frequently and have security issues.
Premium themes always Work great because it provides you SEO optimized code, free premium support, and regular updates. You can buy Premium themes from Themeforest.
How to make money from your Blog?
There are plenty of ways to make money from your blog. But before monetize your blog, you need to bring value and trust with your readers. When people started trusting on your blog and it's content then it would be easy for you to make money from it.
Here are some of the genuine and lucrative ways to make money from your blog:
Google AdSense
Affiliate Marketing
Sponsored Posting
Paid Reviews
Banner ads
Selling your own products and services
Conclusion
I hope you have found this tutorial helpful. It will definitely clear your doubts about how to start a blog and make money from it.
Remember consider blogging as your business and invest in it. Do not go with free blogging platforms. Money rolls money. When you invest in your blog, you definitely able to pull money out of your blog. If you liked the post please share it with your friends.
If you need any help setting up your blog then feel free to contact me.