The blog was introduced to the internet world in 1994. During its initial days, the blog was sort of a personal diary where people can write their day-to-day life or talk about their thoughts.
Later people find this a good medium to convey their ideas and knowledge to others around the world. This is formed as a reason for the emergence of Blogging as a business.
A blog is a website that shows informative content which is regularly updated. The content aka articles is arranged in a reverse chronological order where the recently updated post will appear on the top.
The blog is usually maintained by an individual or a group of people or a company. This is the most effective marketing medium for every business to reach a large audience base.
After a series of inventions, WordPress has gained its unique recognition as the most popular CMS. Before WordPress invention, people need to learn PHP, HTML to develop a blog.
But the WordPress has entirely changed the phenomenon in developing a blog. Even a newbie without coding knowledge can easily develop a blog by watching videos online.
Advantages of Blogging:
A blogger is someone who shares the content with the world considering the above factors. Nowadays all small/large business have their blog.
Through blogging, you can share a detailed explanation about your business with the potential audience. Also communicating with your audience is measurable and helps the progress of your business.
Many reasons are there to start blogging as a business or a tool to your business. This is the cheapest and effective way of building brand awareness among common people.
As an individual, you can make blogging your source of long-term passive income. Yes, there are several ways to generate money from your blog.
I have developed this blog in WordPress and monetized it with Google Adsense and Affiliate Marketing. This blog is making some decent revenue for me monthly.
You can easily develop a blog with the help of CMS. And WordPress is one of the popular platforms to start a blog. We are going to discuss how to create a WordPress blog in 2021?
Why People are Choosing WordPress over Other Platforms?
The Answer is, WordPress is an open-source content management system (CMS) that is free to use, user-friendly. It provides full control over every detail of your website/blog in the future too, making it more reliable.
The main factor that attracts users to WordPress is its easiness in customizing plugins and themes. Anyone can develop a blog by just using the drag and drop function.
WordPress comprises three main parts and they are WordPress Software, Themes, and Plugins.
To develop a website/blog, you have to install WordPress Software on your Hosting Server.
Now, you need to choose any free themes or paid themes based on your requirement. Login to your WordPress software to install the theme.
Your blog is ready now, but if you want to add some more features, you need to depend on Plugins. There are millions of plugins are available for this purpose.
Even if you don't know anything about coding, still you can add more features to your website with those WordPress plugins available, most are free of cost. This user-friendliness attracts more people to WordPress.
We will read more about this in the further part of this article.
WordPress Vs Other CMS
Now let's see what differentiates WordPress from other CMS.
Even though there are many powerful CMS available online, some are even free, still, they are behind WordPress.
The reason is WordPress is comparatively easy to learn and it is very simple to create a blog layout to publish your content.
Also, more plugins make it highly customizable over other CMS. So far, we have discussed above, How good is WordPress software, and why you need to build your dream website/blog in WordPress?
Now let us discuss how to start a perfect Blog?
Before starting, you need to understand few things which I will be explaining below. Read carefully.
let's start.
1. Start By Choosing a Right Niche
Niche means the area around the topic which you are comfortable with where you have enough knowledge and passion.
So you need to find the right niche that suits you as well as the audience. One important thing while choosing a niche is that it should be an area where the audience finds interest.
There should be a demand for the topic you have decided to start. Unless reaching success is a nightmare. Also, balance your interest and passion with the demand else you will fail.
Some of the popular blogging niches are:
Make Money Online
Blogging and Affiliate Marketing
Food and Food-reviews
Travel Niche
Technical Review
Important Points to Note When Choosing a Niche?
How vast is the area you have chosen?
Observe the potential competitors and their activities in their blog.
Examine the possible ways of monetization in your field.
Spend enough time to decide on your niche. You cannot change your niche once started.
2. Pick a Right Domain Name
Soon after choosing your area of interest, find a suitable domain name for your blog. Naming your blog is naming a child and take utmost care in picking the right domain name.
The people will find your blog by typing the domain name in their browser address bar. You can choose something relating to your niche.
If possible, you can use your name, or your business name, or a combination of both, anything but make sure to find a unique name.
The domain name should include your niche keywords. It should be short and simple, easy to remember and avoid jargon words, etc.
Also do not add any hyphens, numbers which will confuse the people. In this part, let me explain to you how to register a domain name for your blog?
Go to 'rajsoftechsolutions.com' and click 'register new domain'. Now, type your desired domain name in the form provided and click 'GO'.

On the next page, if the domain name is available, click 'add to cart and complete the registration process.
Raj Softech Solutions will provide you the most reliable domain name registration services. All registrations are eligible for Free DNS Management, Free Email Forwarding, and ID Protection facility.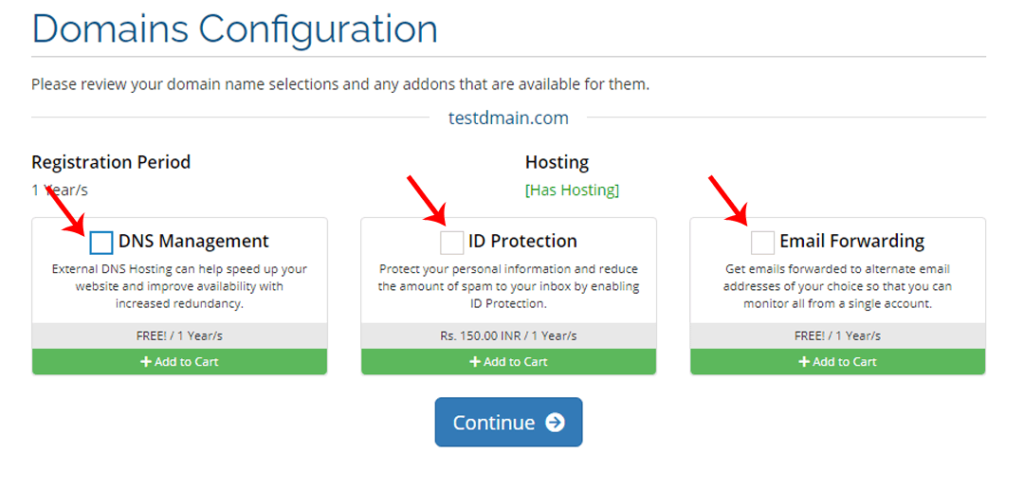 Now, after choosing the domain name, you need to buy a suitable Web Hosting Plan to host your blog. Let us discuss it below.
3. Buy a Suitable Hosting Plan
If you have decided on the domain name, next we can move on to host your website. One of the most important things you need to consider while starting blogging is choosing the right web hosting platform.
Even if you create a blog with excellent content and are not hosted on the Internet, no one will visit your website.
The ability of your blog to perform well in the online world has a great dependence on the hosting platform.
The hosting platform makes sure your blog is available to the readers 24/7 without any interruption.
Choosing the wrong hosting will create many problems. Hence it is a confusing task for most beginners to decide on a reliable web hosting platform.
I am Confused, which is the right hosting for my blog?
There are different types of hosting such as Shared Hosting, VPS Server, and Dedicated Hosting. If you are just starting a blog, Shared Hosting can do well.
Because the blog will not consume heavy resources like CPU, RAM. Don't forget that, WordPress is a resource-intense application.
Rajsoftech Hosting is one of the pioneers in providing hosting services for blogs and websites. Now, let's see how to buy a hosting plan for your blog?
Visit 'rajsoftechsolutions.com' and click 'shared web hosting'. There are four plans and I suggest you start with 'basic hosting'. Click 'order now'.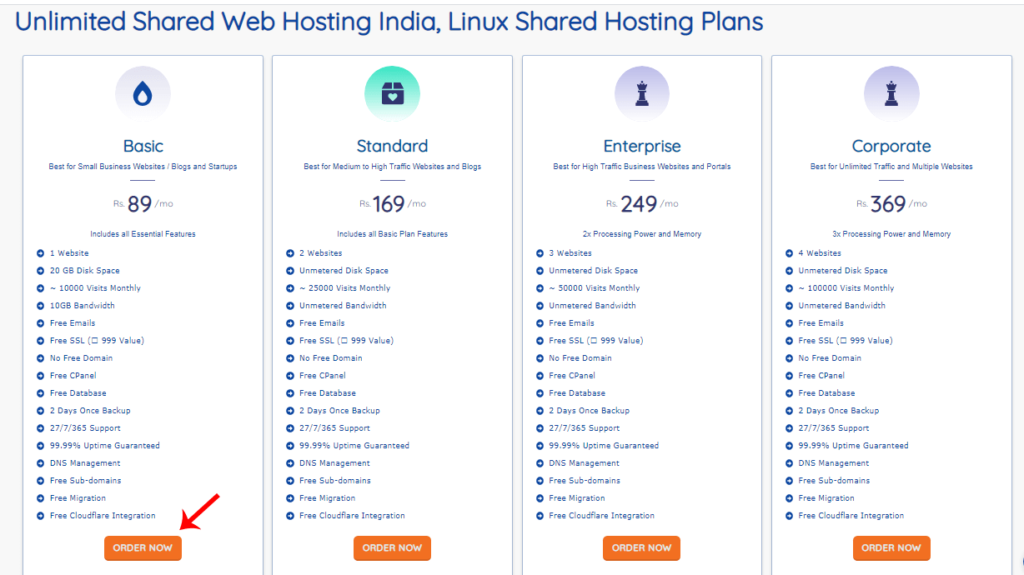 The basic plan starts at the cost of Rs.89 per month. On the next page, select your domain name and proceed.

Now 'choose your billing cycle' and press 'continue'. You can choose 1 month, 1 year, 2 years and 3 years plan.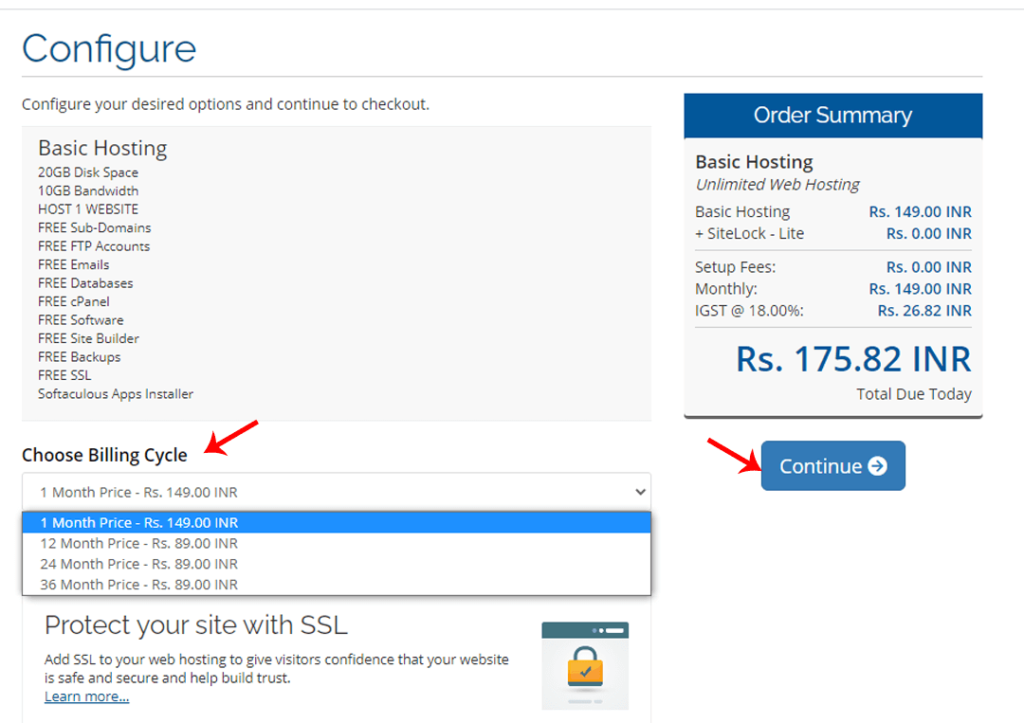 Simply follow on-screen instructions and complete the registration process. If you are a newbie to start a WordPress blog/website, you can go with the basic plan.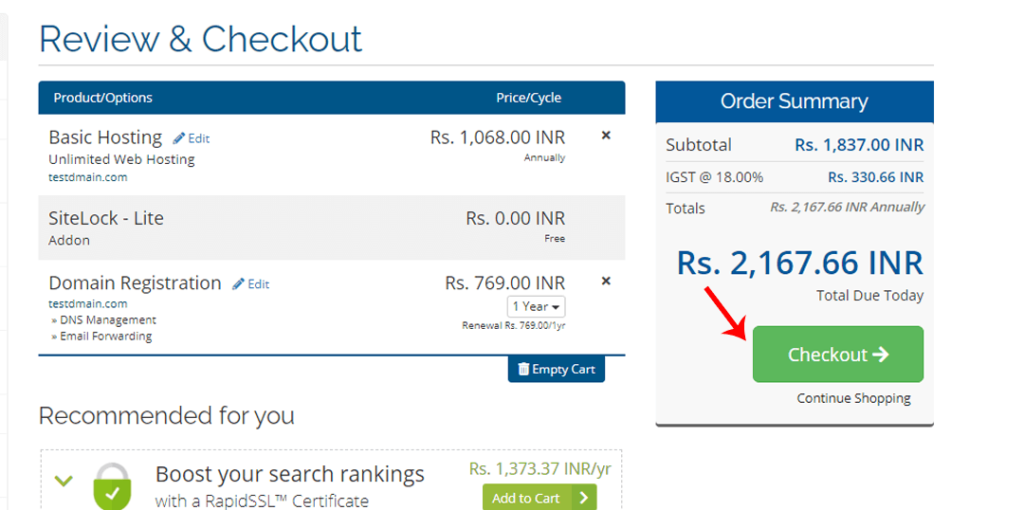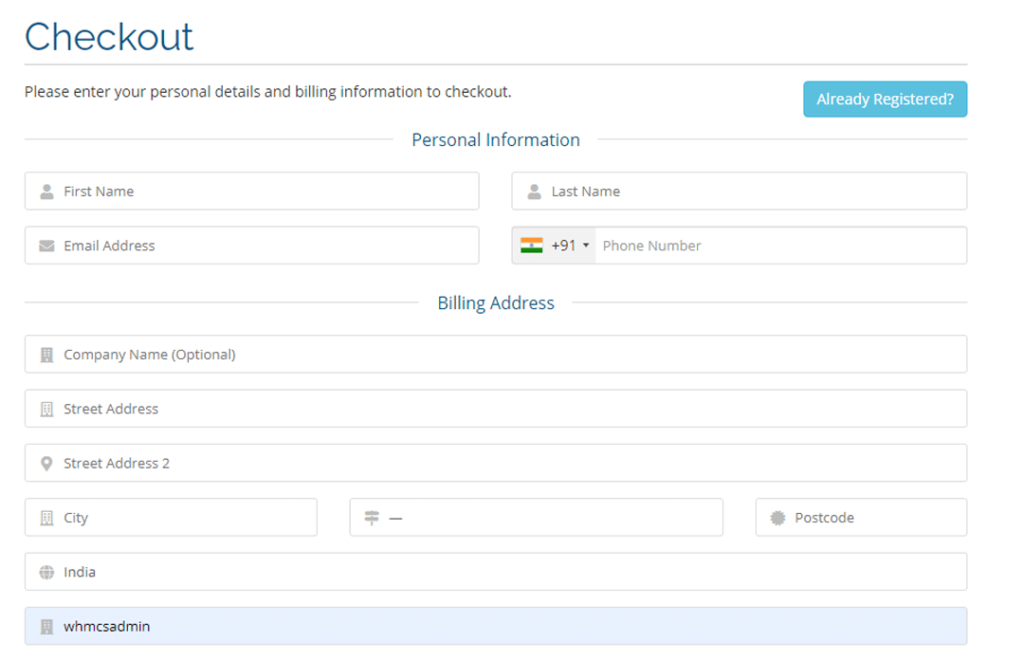 Or if you are a blogger with a good amount of audience in your blog/website, you can choose the standard plan.
The highlight of their service is the reasonable price they quote for the extraordinary service. I would say they provide the best web hosting service for anyone who wants their website/blog available 24/7 hassle-free.
They even provide you free domain names if you choose them as your website hosting platform for more than 3 years. That's a steal deal. Go grab it !!!
4. Install WordPress and Complete the Setup
After successful payment, you will get an 'account information email' from Rajsoftech Hosting. This email consists of your CPanel login details.
You can now login to your CPanel and navigate to the 'Softaculous section' to install WordPress with a few clicks. The entire process is simple and it will take 5 mins to complete the installation.
Rajsoftech Hosting offers high performance at maximum efficiency with almost zero lag which is what your website needs. Also, the service they offer is a good deal for the amount you pay.
Here I will be showing you how to install and set up WordPress using Softaculous Via Cpanel?
Softaculous is an auto-installer that helps to install web applications like WordPress without wasting much time. Now login to your CPanel control panel and navigate to 'softaculous section'. There you can see WordPress Icon. Click the icon to proceed further.

On the next screen, click 'install now'.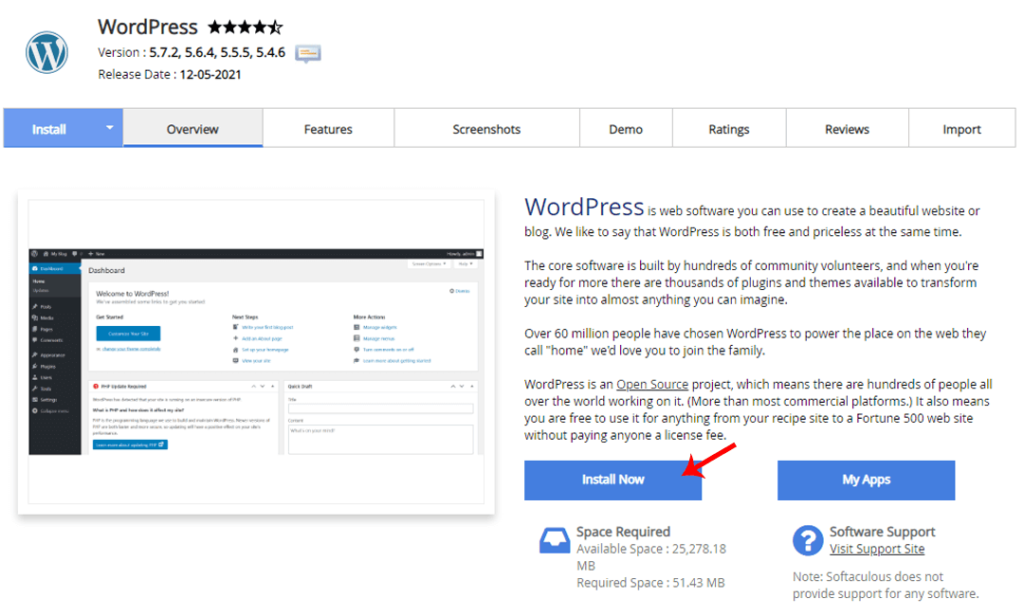 On the third screen, the WordPress application will ask for a little information to begin the installation process.
Complete the information asked in the software setup page form and proceed with the installation process.
Choose desired protocol
Type your WordPress blog name and description
Create an admin username and password
Keep advanced options as it is
Finally, give your email to send the installation details.
Wait on the same page until the process gets completed. In the end, you will get the WordPress Dashboard Login URL and your installation is complete.
5. Install WordPress Theme
Next, I suggest you for buying a premium WordPress theme. You may be thinking now "Hey at first you said WordPress has themes and plugins free and now asking to buy a premium WordPress theme"?
I can explain to you why!
WordPress.org is an open-source platform where you will get a lot of free themes and plugins. Anyone can easily install themes or plugins from the WordPress repository and can use them to develop the website/blog.
But when any issue arises while installing them or shortly you will not get any support from the theme developer.
Also, no updates regarding the free theme you choose will be provided to you which may cause data loss in the future.
The features provided by free themes will be fewer.
Of all these problems, the main issue is that free themes don't have any inbuilt SEO suggestions.
But if you choose the premium version themes, you have lots of customization options. The theme developer will take care of all issues and you can contact them for any issue you face Because you pay for them !!!
You will get all kinds of support and updates regarding your theme from them which ensures the security of your blog/website. With all these points in your mind let us install and set up WordPress.
Open your WordPress dashboard and navigate to the 'Theme Menu' Sidebar. Here you can download any free theme from its repository (or) click 'add new' to upload the premium theme you bought.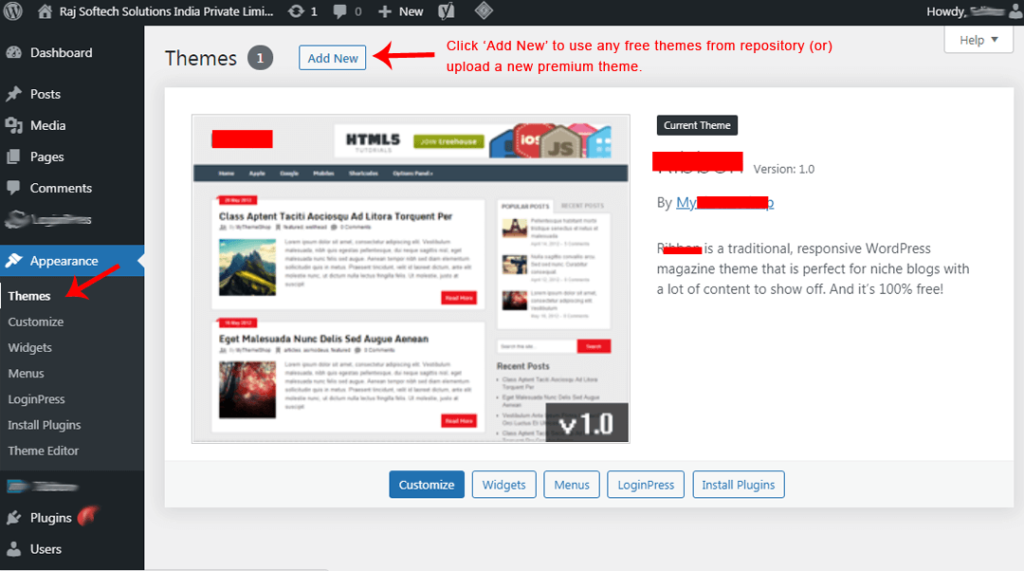 Wait for a few minutes for the theme to get installed in your WordPress. Now, Activate the theme and complete the customization part as you wish.
6. Install Plugins
We can develop a website just by installing a WordPress theme either free (or) premium. But to extend any functionality or features, we have to install plugins.
WordPress repository has lots of plugins for different features available for Free as well as Premium. Same as like themes, for enhanced operations, premium plugins are highly preferred.
Open your WordPress dashboard and navigate to the 'Plugin Menu' sidebar. Here you can download any free plugins from its repository (or) click 'add new' to upload the premium plugin you bought.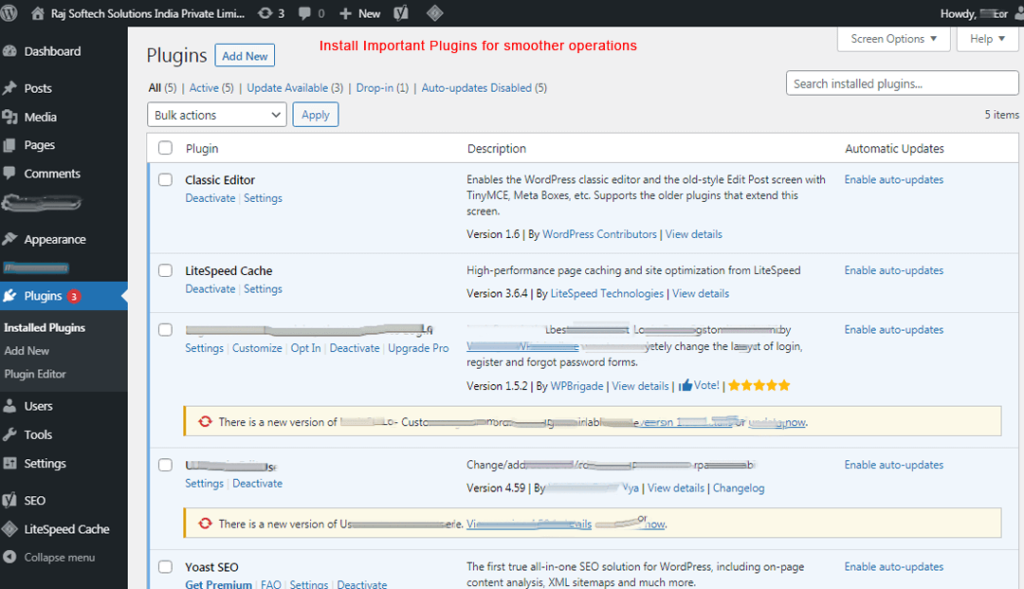 Some of the important (aka foundation) plugins for every WordPress sites are listed below:
Akismet (to prevent spam comments)
Yoast SEO (For SEO purpose)
W3TC or WP-Super-Cache or WP Rocket (cache plugins)
WP-forms (to create contact forms or other types of forms)
WP-Optimize (to optimize WP dashboard)
Subscribe to Comments Reloaded (to alert users when new comments are posted)
Jetpack (WP security plugin)
The above plugins are just basic and essential plugins for the enhanced operation of any WordPress website/blog.
7. Create Foundation Pages
Now it's time to create foundation pages such as home, about, contact, privacy policy, etc. These are the pillar pages that give structure to your WordPress website/blog.
Home-page: Here you need to provide a detailed introduction of your brand. Because this is what the audience sees first when they open your website.
About-page: It comes next to the Homepage that tells the audience more about your brand. Try to show the personality of your brand here. Adding the history of your business here can grab audience trust.
Contact page: Another important page, where you need to provide all the contact details that you wish to share. Details like email id, phone no, physical address, etc. You can even provide the timing of your business and the working days over here.
After creating the foundation pages, you can develop other pages too based on your website requirement. There are millions of videos are available on YouTube to learn to develop a WordPress website/blog.
You can learn by yourself (or) hire a WordPress expert to complete the above process for you.
Bonus Tips:
Optimize for Search Engine Optimization (SEO)
Optimizing your website for SEO is an inevitable part if you wish to see the success of your website. A good SEO can attract more people to your website which can eventually be converted into potential customers.
The ultimate aim of SEO is to make your site come first in the list if someone searches for a related topic in the search engines. SEO means increasing the ranking of your website in search engines.
There are three types of SEO.
On-Page SEO
On-page SEO is associated with the content of your website. This work involves optimizing your pages and blog posts. By doing so, search engines get an idea about the content on your website and consider it a valuable resource.
Off-Page SEO
Off-page SEO refers to actions outside your website like building backlinks from other websites. This is very valuable evidence for any website because by doing Off-page SEO, search engines get to know that your website is more useful to other people.
Technical SEO
This is related to your website other than the content. The work involves improving the loading speed of your site thereby providing users a good experience. Optimizing and tuning the WordPress theme for easy and user-friendly navigation, responsive presentation, etc.
Blog Monetization Methods
Before telling about the monetization methods, let me remind you, earning money from a website will not happen soon after you start a website.
It will take time for the SEO to work. Be patient and work on the other factors like providing quality content frequently and optimizing for SEO.
Let me explain to you the main two methods through which beginners can earn money by blogging.
Google Adsense
Google Adsense is a method by which website owners like you can place Ads on their websites. For that, you need to signup with Google Adsense and once you got approval, Google itself will place suitable Ads related to your website content.
When visitors visiting your blog/website click the ad, you will get revenue. Google Adsense is one of the premium money-makings in the blogging industry.
Many bloggers including me were earning 5 digit income monthly from Adsense. If your blog is having decent visitors, you can easily earn a lucrative income.
Affiliate Program
Another method is Affiliate Marketing, that is, selling other merchant products/services for a commission. It is a performance-based business model where the affiliate will earn a percentage of the sales as a commission.
The process is simple, that you have to find a suitable Affiliate Business and sign up with their program. Once your application is approved, they will provide you access to their affiliate dashboard.
There you will find different products and a unique affiliate tracking URL. All you have to do is copy and paste the code into your blog articles or any other pages.
People visiting your blog/website when bought the product through an affiliate URL will earn a commission. The buyer doesn't need to pay anything extra for that. Seller of the product provides you this commission for promoting their business.
Conclusion:
Blogging not only makes you reach millions of people using the internet but also helps you earn a decent amount if you work on it.
It helps you to establish authority among people. The blog is a way of self-promotion which provides you more opportunities.
So, If you are planning to start a blog this year, WordPress is the best choice. Without a second thought, you can choose WordPress as it is an open-source CMS that provides you high flexibility for blogging.
It gives you full control over your website/blog in the future too. You are free to customize your blog at any stage and have complete freedom when choosing WordPress.
All the best for your blogging career.