Not so far, it was just some 10-12 years back when blogging was still under construction in india.
Blogs have influenced business, online culture, people's passions, society's meaning, and many other things over time.
And today we are at a stage when people have gone crazy to earn through their creativity and smartness, and we hear terms like professional bloggers, passionate bloggers, and etc.
Whatever the case, whether of professional or passionate bloggers, the main objective is the number of views, money, and reputation.
The number of blogs published each day has already surpassed the limit and reached millions.
Clearly, competition is getting stiffer. No doubt, resources such as social media, analytics, guidance, etc., are in abundance today.
But meanwhile, the competition has also increased many times. It is also true that most people know what to do but don't 'how to do'.
That's why today we know only a few professional bloggers who are beyond the ongoing competition.
How To Become A Professional Blogger and, You can easily make your way out of the crowd, and easily become a professional blogger, if you work smartly and in the right way.
I've brought down things under this article that must be a part of your planning.
By practicing these tactics, you can turn the ongoing trends in your favor to become a killer blogging professionally.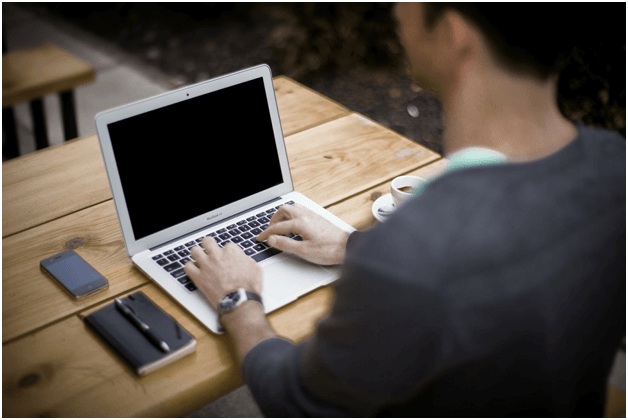 10 Ways to Become A Professional Blogger in India
1. Building Up Reputation and Audience
Thousands of bloggers spend hours and hours to polish their skills and build up reputation and audience.
But there are lots of things to do within a limited time.
Better you know what tactics are best to practice so that you can focus on them and make maximum utilization of your time.
2. Guest Posting
When it comes to reputation, guest posting is the first thing that comes to mind, and it must. You just need to create the best thing you can if you're posting somewhere else.
Apart from backlinks, there are many long-term benefits of guest posting as well. If your words have that power to attract people, and if people need what you know, then guest posting is made for you only.
3. Participate In Discussions
If you find ongoing discussions on linkedin Communities or Facebook Groups or on any other forums and platforms, then consider it as an opportunity to build up reputation.
You can easily find people on other blogs having doubts and queries. If you have an answer to someone's question, answer willingly.
Also, commenting can be very useful in building up backlinks. So don't miss out the opportunity to comment on greater platforms if you can give people a useful answer.
4. Learn to Teach to Grow Fast
It has become extremely easy for you to learn things now since you can find many people to guide you. If you are dedicated, you can learn the basics in a few months.
So even if you are a newbie and want to learn fast, your active participation in discussions on various platforms will be of great gain.
Also, people whom you find there are generally involved and active in their fields. You can consider things that are being told by them.
One of the greatest benefits of all this is that you will be aware of every now and then changing trends,and practices required to turn them in your favor.
If you find something useful,you can implement them on time for your benefit.
If you haven't started building up connections and visibility yet, start today.
Find appropriate blogging forums or communities, groups in your niche and start interacting with people.
Learn basics and start helping other people as well. This will soon start strengthening your profile ultimately.
5. Identify What's So Special In Your Blog?
On one hand, you want people to spend more time reading your blog, comment, share, and most importantly that they remember you and your place and come again and again.
But if on the other hand, you are providing them ordinary content that they find everywhere, how can all that become possible?
This realization can make some bloggers uncomfortable, but today most of the bloggers believe in copy blogging, and that's why they become a part of the crowd.
Yes, practically it is not possible to keep delivering content so frequently but it also doesn't require compromising with dignity and inundate your website with what people find all over the web.
It's not written anywhere in any rules that you should post regularly even if you don't have anything valuable.
You need to reconsider the thing again that blogging is all about creativity and it is most good if you focus on scouting out something new or bringing old things in some different way.
Then only you are doing justice to your so-called blogging profession.
Don't get it wrong and don't make mistakes to understand that I am saying not to see what's happening all around and not to write what others are writing.
It is just that if you are rewriting a topic, at least you can build up a significant difference by working upon it sincerely and adding more value to it.
If you keep all that into account, people would love to sign up for your newsletter, bookmark your address, and share your posts. ?
Is that what you want more from your audience as feedback?
6. What's In Writing Lengthy Articles?
If you are watching an interesting movie, you don't really care how much time it is taking. Right??
What matters is it should be in a flow and there should be a message at the end. Time does not matter if you get value for the time you spent.
Same is the case with readers as well as for the search engines. So, what exactly do people want from you?
You might have visited places where you find 2000 word articles and even more, and still you find people commenting on points hidden somewhere in the depth of that article.
In fact, there is no point to worry if you need to write a lengthy article in order to make it more informative and engaging.
Try to write a perfect long detailed post with a flow and a message at the end.
7. Lengthy Posts Are More Google Friendly
No one knows exactly how Google algorithms work and what is their formula to determine content quality.
But one strategy has worked so well and gives us a way to understand something.It becomes easy for the search engines to index and value lengthy contents.
It's like the method of calculating the average value in mathematics that brings more accurate value.
So in order to let search engines know well what your content is all about, you must write detailed articles.
This will prevent your articles from getting buried despite being of great value for people.
8. Know Well What You Write
How it will be possible for you to build up a reputation if you do the same thing- writing a blog and just over.
Be ready and able to answer people if they want to know something more in detail. This way you can add more quality to your content by providing excess information in the comments.
It is not at all required to learn each and everything. You can choose anything and become a knowledgeable person in that field.
As said earlier, people need just one special reason to mark you as important. Like today people are following Brian Dean because of his mastery in backlinks.
9. Eat up Social Media
Are you missing out on people and groups lying there on various social networks?
Find people and groups of your niche and connect to them.
Never hesitate in following and sharing. Be an active candidate so that people soon start recognizing you.
It is a process that needs time to give results but no doubt, results would be exceptional.
If you have the skills to attract people with your communication and work, these platforms are made for you to get fast output for your efforts.
10. Manage Time for Analysis
As said in the beginning, blogging is not the way it was.
Today, various types of analytic and research tools are available. Tracking of the audience, keyword research, performance analytic, etc., have become the most important things all over in this field.
Everything has become more reasonable.
Since analysis doesn't give a conclusion by itself, it is you who has to do it.
It is very necessary for you to spend some time and learn how to utilize the facilities which are benefiting others.
Final Thought
All these above mentioned tactics are though selected one's, still they are the best if you do all that together.
You need to manage your time properly and distribute it as per the requirement.
Also, be patient to watch the outputs because slow is new fast.
So keep yourself up to date.
Might be in the meantime of reading this post, something new has evolved.
Is there anything else in your mind that makes you a professional blogger?
Do share your thoughts and let me know..