GreenGeeks is one of the best and reliable web hosting companies. In this post, I am going to show you how to start a blog using GreenGeeks.
GreenGeeks is an eco-friendly WordPress and shared hosting provider. They are using eco-friendly technology to manage their servers and help to make the environment clean. The Company was founded in California by Trey Gardner and Kaumil Patel in 2008.
The company currently has more than 35K+ active customers with 300000+ websites are hosted on their server. They are using eco-friendly solutions to power up their server and keep the servers running up all-time.
The Company has data centers in:
Chicago, USA
Phoenix, USA
Montreal, USA
Amsterdam, NL
Services Offered By GreenGeeks
GreenGeeks offers various services to every business owner and webmasters who want to start their own website.  They currently offer Shared, WordPress, VPS Hosting, and Dedicated servers.  Since we are talking about starting a WordPress blog. So, we will check out their WordPress hosting.
Their WordPress hosting is power-packed with great features and help you to start and run a WordPress Blog without any hassle. Their WordPress hosting has the following features:
Free Domain Name
Unlimited Disk Space and Bandwidth
Let's Encrypt Wild Card SSL
Free Website Transfer
1 click WordPress installer
Top-notch security
Daily Backups
Cpanel and Softaculous.
Their high-performance WordPress hosting platform, which is optimized for WordPress sites, and includes convenient features such as 1-click WordPress installation and automatic updating. They also support advanced WordPress development tools like WP Staging, PHP 7, and command-line tools like WP-CLI and Git.
Pricing
GreenGeeks offers a power-packed WordPress hosting package at a very reasonable and affordable cost. They currently offer 3 WordPress hosting plans. Eco site Starter, Pro, and Premium
Starter plan cost your around $2.95 per month and this an ideal package for starter blogs. However, I would recommend you buy" Eco site Pro" Plan ($5.95 per month) as it will not only help you to start your WordPress blog but also help you to grow.  It both save your time and money.
Start Your Blog Using GreenGeeks
Signup Now for Just $2.95 Per Month
Excellent Network Uptime
When it comes to the uptime of a hosting company. GreenGeeks provides excellent network uptime. The company claim 99.99% network uptime and data show how they perform well in past uptime tests.
GreenGeeks provides an impressive 10-months without any downtime. They should definitely be on top of the list.
Environment-Friendly Hosting
GreenGeeks claim to be an Eco-friendly web hosting Provider. What does that mean?
In simple terms, they are using wind energy credits to power up their servers and keep your website running up. Which means they reduce the carbon emissions and also replaced over 615,000+ kilowatt's a year.
They also got a recognized Green Power Partner with the United States Environmental Protection Agency (EPA).
Customer Support
Customer Support is a key point when we are looking for a reliable web hosting provider. To test their support, I have initiated a live chat. We were connected to a customer support agent within a minute, who then answered questions quickly and responsively.
In addition to their responsive customer support team that's available 24/7, GreenGeeks also provides a pretty extensive knowledge-base where users can find the answers to their questions quickly.
Money-Back Guarantee
Your WordPress hosting account purchase is secure with 30 days money-back guarantee. If you are not satisfied with their plans then you can ask for a refund and take your money back. However, You have to keep a few things in mind. If you buy a domain from them then they won't refund the price of your domain.
This happens to many web hosting companies and that's why I always recommend buying a domain from other sites like Namecheap.
No overselling
Like other cheap web hosting companies, They did not oversell their servers and put many customers on a single server. This will slow down the website speed and performance. They really don't crowd customers. Which means better speeds for your website.
How to Start a Blog Using GreenGeeks
You can easily start a blog using GreenGeeks Hosting. All you need is to Purchase their Hosting account. Click here to get up to 60% off On their hosting Plans.
Now select the desired domain name for your blog. They are also offering Free domain names with their hosting plan.
After that fill out the customer details like Name, address, phone number, etc and the login details of your account.
Complete the payment and your account will be activated instantly. Log in to your customer account dashboard and choose Quick Launch Wizard.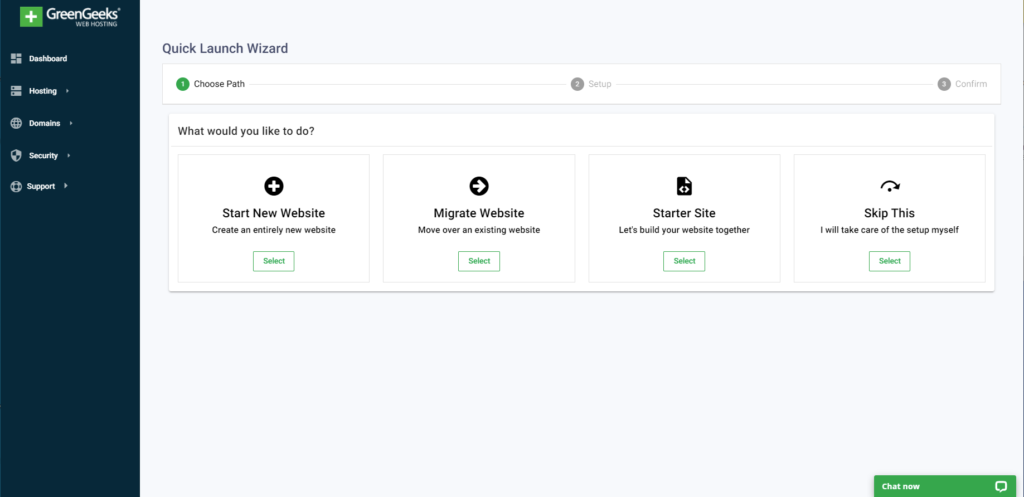 Now Select Start a new Website and then select WordPress
After filling out the necessary details, you need to select a theme for your blog. This is not a mandatory step but it will save your time.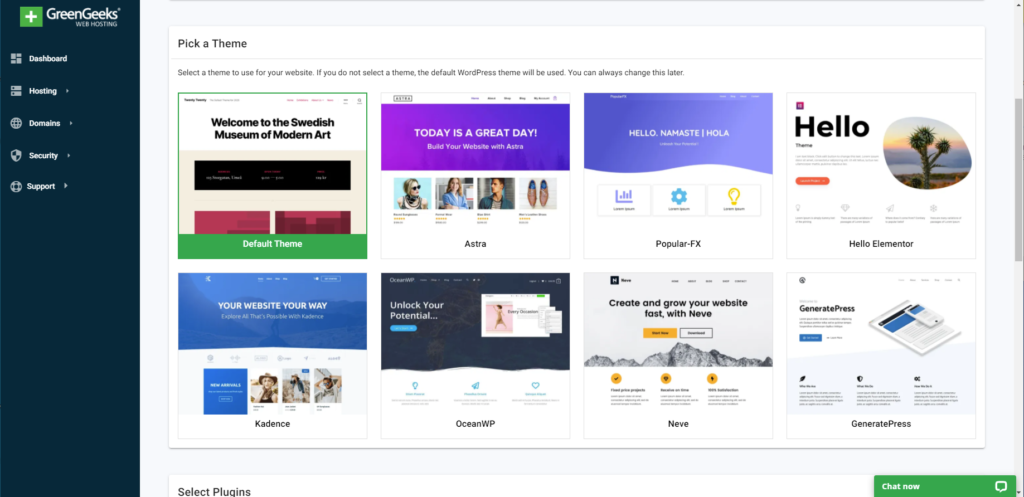 After selecting the themes and plugins then confirm and your website is ready to manage and available online.
Conclusion
GreenGeeks is definitely an ideal choice for starting your WordPress Blog. If you are looking for reliable and affordable web hosting solutions then you should try them out. I sure, You won't disappoint. They have perfect solutions for you to start your own blog.