Are you looking for a reliable and fastest VPS hosting provider? If yes, then this post is for you. In this post, I am going to review Liquidweb VPS hosting. I will try my best to elaborate on everything factual about this awesome web hosting company.
What is VPS Hosting?
VPS stands for a virtual private server. It works differently from traditional shared hosting. A VPS hosting provides you a Virtual environment where you get dedicated resources like CPU, Space, bandwidth, etc for your website. Your website space and resources won't be shared with others as they will in shared hosting.
If your website or blog is in a growing phase then VPS hosting is an ideal choice for you. It will give you an ample amount of resources to run your website without any hiccups.
What is Liquidweb?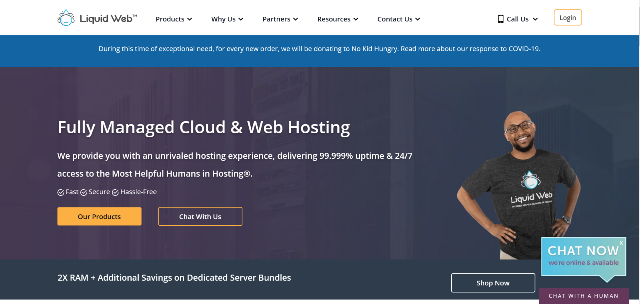 Liquid Web is a privately owned web hosting company and was founded by Jim Geiger in 1997. They currently owned three data centers located in Lansing, Michigan.
The company is specialized in providing dedicated hosting products like VPS hosting, Cloud Servers, dedicated hosting, etc at reasonable pricing. They currently have over 30,000 clients in over 150 countries and the company also received the INC. 5000 Fastest Growing Companies award for 9 years in a row. Their hosting services are specifically designed and optimized for popular apps such as WordPress, WooCommerce, premium business email, and more.
Features and benefits of Liquidweb VPS hosting
Liquidweb is an old player in providing robust hosting solutions to its clients. Their VPS is one of the best segments that they offer to their clients. They are offering both managed and unmanaged VPS hosting that consists of brilliant features. Some of the best features that you get are:-
1. Plesk and cpanel
They are offering VPS for both Linux and Windows platforms. So, they offer Plesk for windows and Cpanel for Linux platforms to manage your website easily. With these two popular control panels, you can easily manage your VPS hosting with system-level control which includes automated updates, application deployment, and maintenance.
2. Gigabit Bandwidth
LiquidWeb offers Gigabit connectivity with all of their VPS plans. You will get free data transfers for all inbound gigabit (Gb) bandwidth and 5 terabytes (TB) of bandwidth on a fast Gb network. It will speed up your website loading speed and connectivity.
3. Integrated Firewall
Security is a big concern in today's digital world. Don't worry! Liquidweb offers an integrated firewall to protect your VPS hosting account as the first line of defense for malicious internet traffic. Literally, Liquidweb has never compromised with its security. That's a big point.
4. Cloudflare CDN
You can easily connect your website with Cloudflare. Cloudflare basically is a Content delivery network that helps you to boost up your website performance.
Liquidweb offers easy integration of your website with cloudflare and speed up your website performance.
5. Easy Scalability
Liquidweb offers easy scalability on their VPS plans which means you can easily upgrade and downgrade your VPS account without any issue.
6. Dedicated IP addresses
All of their VPS plans come with dedicated IP addresses that boost your website performance, speed, and protect your websites through a secure and dedicated address. A Dedicated IP address also helps you to install Private SSL certificates on your website.
Pricing
Liquidweb offers VPS for both the LINUX and Windows platforms. Their Linux VPS plans Starts at $15 per month and the highest plans costs around $129 per month.

Whilst their Windows VPS plan is starts from $54 per month and highest plan cost you $169 per month.
You can buy any plan as per your needs and requirements. You can also get good discounts if you choose to pay yearly.
Excellent Network Uptime with 100% SLA
Liquidweb offers almost 100% Network uptime. If you see the image below, you understand how much consistent they are in providing excellent network uptime.
They are providing Service level agreements that mean if they are unable to fulfill their said uptime then they will provide you with account credits. You rarely found that any web hosting is offering SLA with their hosting.
Heroic Customer Support
Liquidweb is very well known for its excellent and super-responsive customer support services. They are offering live chat, support tickets and also have dedicated support articles and knowledge bases to solve your general queries. They are available 24/7/365 days. It definitely makes them a leader in providing heroic customer support services.
Over to you
So, if you are looking for a reliable and fastest VPS hosting provider and won't compromise your website performance then Liquidweb VPS is a great choice for you. You won't regret your decision by choosing Liquidweb as your web hosting provider.
I highly recommend you to give them a try and make your online journey more fruitful. Don't forget to share it with your friends.