Did you know that you can boost conversions with Exit-Intent Popups? Yes, it is right. In this post, I am going to show you how to boost up conversions using Exit-Intent popups and increase your sales.
With the growing number of tools, you can use many of them on your blog and website to boost conversions. Exit-intent is also one of them. It is a great way to bring your visitors to your website when they are leaving your website without taking any action.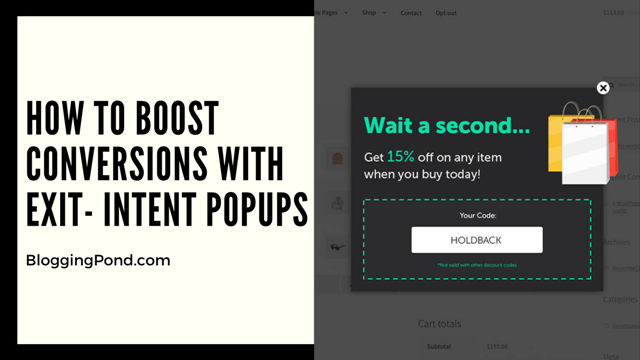 Let's understand the whole concept in detail. Let me first introduce about Exit-Intent Popups
What is Exit-Intent Popups?
Exit-Intent is a revolutionary tool that helps you to bring your website visitors back when they are leaving your site. In simple words, you lure your visitors to your website by showing coupon codes, Deals, or even email leads that bring your visitor back to your site.
It will help you to bring some conversions and sales if by encouraging your visitors to make some deal of your website. Exit-Intent Popups works great on shopping sites. An independent research shows that a webmaster can bring 150% more conversions using this awesome tool.
By Using Exit-Intent Popus, You can do:
Reduce cart abandonment.
Download a free ebook or case study.
Sign up for a free product trial.
Book a free consultation call.
Signup for your webinar.
Provide Coupon and discount codes.
There are plenty of tools are out there but I personally recommend you to use OptinMonster to install and activate Exit-intent Popups on your website.
What is OptinMonster
OptinMonster is robust and reliable lead generation software for marketing agencies, bloggers, eCommerce websites, and all small businesses. If you want to grow your email list, improve your website conversions, and reduce cart abandonment, then this is for you.
OptinMonster's lead generation tool works out of the box with all major website & eCommerce platforms. Plus, we integrate with more email marketing services than any of our competitors.
It is an ideal tool for marketing agencies, bloggers, eCommerce websites, and all small businesses.
Today, OptinMonster is trusted by well over 1 million websites and has been responsible for more than 217 million conversions.
Features of OptinMonster
OptinMonster is not just a lead generation tool. It is a complete marketing suit. You will all the necessary tools to increase the sales and conversions on your blog. Some of the best features that you will get are:
Lightbox popup.
Fullscreen welcome mat window overlay (new).
Slide-in.
Floating bar (new).
Mobile optimized popup (new).
Inline/after post (new).
Sidebar widget.
Multiple form design templates.
Option to add custom HTML and CSS to forms.
Ability to create unlimited forms for different posts on your site.
Easily clone forms for instant A/B testing.
Exit-Intent to only show popups as visitors are about to leave.
Seamless integration with all major email marketing services.
A user-friendly native WordPress user interface.
Since the OptinMonster already comes with the best selection of themes for styling and basing your form designs on, the new Canvas add-on form type lets you start with a blank slate.
OptionMonster's Intuitive visual editor is easy to use and allows you to create a web form that matches exactly your blog's branding.
You can gate content before visitors can access it via their content locker. To add a sense of urgency and limited availability, you can create a countdown timer with any of your campaigns.
Generally, you have two methods to use OptinMonster on your blog. One is with their plugin and the other is to install it globally via Google Tag Manager. Personally, I prefer installing OptinMonster with WordPress Plugin.
If you aren't that technical, the OptinMonster WordPress plugin makes using their service a breeze. All you need to do is install the plugin and connect your account. Once you connect your account you retrieve the campaigns you have set up within your account.
Pricing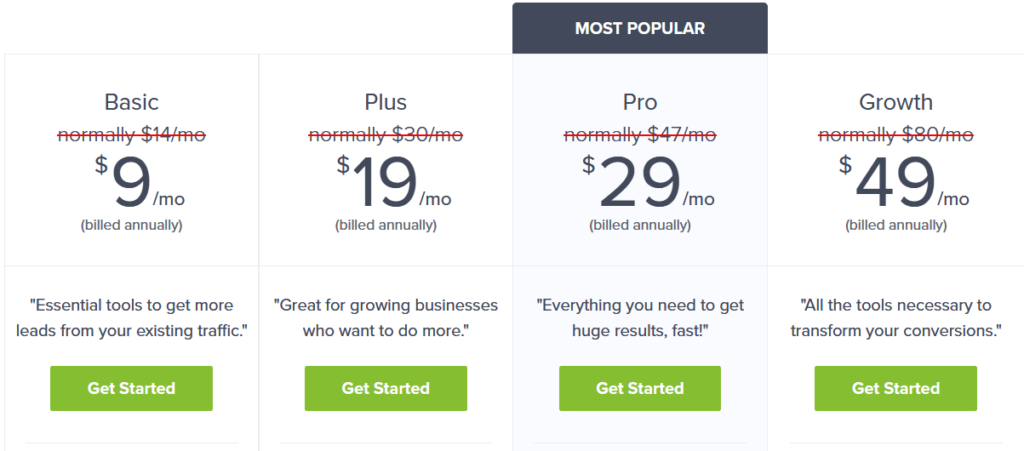 OptinMonster pricing is providing good deals on their pricing. You have 4 pricing options:
Basic — $9/month
Plus — $19/month
Pro — $29/month
Growth — $49/month
In the pro plan, you will get maximum features including Exit-Intent technology. To use it, I recommend you to go with the "pro" Plan.
How to Install and activate Exit-Intent Popups using OptinMonster
Using OptinMonster you can easily create and activate Exit-intent Popups to boost conversions on your website. Just follow the simple steps below.
Step 1. Buy OptinMonster
Before you use the Exit-Intent, you need to buy the "Pro" plan of OptinMonster. Click this special link to Buy OptinMonster and claim up to 40% Off.
Now, when you buy it. Just install and activate it on your WordPress Blog. You can also connect it through Tags.

Login to your WordPress admin panel. Click on "plugins" then add new. In the search form type"OptinMonster" Install and activate the plugin. After that connect it with your OptinMonster account.
Step 2. Create a Campaign
Now after completing the first step, next is to click the green Create New Campaign button.
In the campaign type Select "Popup" After that select a popup template to start with. You can also filter the templates by Goal, Device, Category, etc.
Now, Click Start Building to create your campaign and move to the campaign builder. Here, you'll see your chosen template in the builder and have access to a near-unlimited suite of tools to customize your exit popup.
Step 3. Customize your Popup
Now, you need to customize your popup. In the campaign builder, you can easily add and change the elements of your popup. You can also change the colors, fonts, and title of your popup.
Add a background image or gradient color that easily matched your website's style and branding. To do so, click anywhere on your popup background and edit it using the tools provided in the left-hand panel.
Step 4. Publish your Popup
When you are done with your editing part. Now set the display rule of your popup. To do it, simply, click the Display Rules button at the top of your screen. By default, your campaign is set to show to all website visitors after 5 seconds of landing on your page. You can adjust it as per your needs.
Now hit the publish button at the top right side of the screen. Congrats! Your Exit-Intent popup is live on your website. You can verify it by visiting your website.
Over To You
After reading this post, I am sure that you have understood the power of Exit-Intent popups. OptinMonster is definitely one of the best tools to use. In this post, you have learned how to boost conversions with Exit-Intent Popups
If you like the post, just share it with your friends. Have questions, just share them in the comment sections.