Automation is very important in today's tough digital world. If you do everything manually then you would not be able to make it up. In this post, I am going to show you how to automate your work with Zapier and WPForms?
In this digital and competitive online world, collecting email leads can be very helpful to bring conversions and sales. Being a blogger, you cannot ignore the importance of automation and email leads.
Here, I am going to tell you everything about automating your work with zapier and WPForms. So, stay tuned with me.
What is Zapier?
Zapier is a complete automation tool for busy people and entrepreneurs. You can easily connect your favorite apps, such as Gmail, Slack, Mailchimp, and more. You can connect two or more apps to automate repetitive tasks without coding or relying on developers to build the integration.
It makes things easy enough that anyone can build their own app workflows with just a few clicks.
Let's say,  you get a lot of email attachments in your Gmail account and you want to save them to Dropbox. whenever you get an attachment, you could open up the email, click the attachment, and then save it to Dropbox. Or you can have Zapier automate this for you, saving you time and effort.
Why Zapier?
There are plenty of reasons you should go with Zapier. It's free to use and also has premium versions. Click here to sign up with Zapier 
With its seamless integration and automation features, you can definitely use it to skyrocket your Business and bring good conversions. Some of the irresistible features are:
3000+ Apps
Create Multiple events
99.99% Uptime
Add multiple actions
Pre-made zaps and templates
Customize your App easily
Zapier is an ideal solution for Growing companies that are looking to automate business processes, connect applications, remove data silos, and improve visibility across all stages of their lifecycle.
Zapier Pricing
Zapier Comes with both free and paid plans. You can choose any of them as per your choice. The plans they are providing are as follows:
Free (100 tasks per month)
Starter ($19.95 per month & 750 tasks per month)
Professional ($49 per month & 2000 tasks per month)
Team ($299 per month & 50000tasks per month)
Company ($599 per month & 100000tasks per month)
you can easily upgrade or downgrade at any time. If you choose to upgrade, you'll pay a pro-rated amount for the rest of the month. If you choose to downgrade, you'll be credited on next month's bill.
If you no longer wish to use Zapier, you may cancel at any time. You will receive a pro-rated credit with Zapier for the remainder of that month's billing cycle.
Also Read:- Quickly Grow Your Email List With Sendinblue and WPForms
What are WPForms?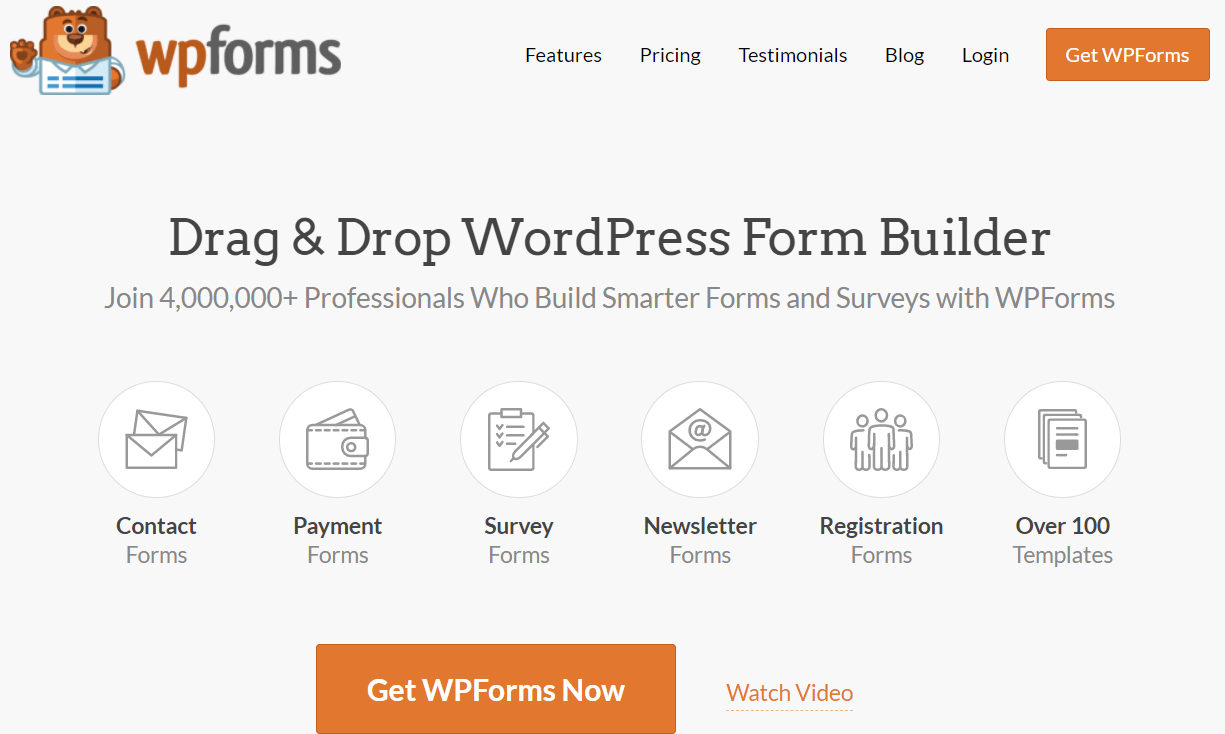 WPForms are an incredibly fast and SEO-friendly form builder for WordPress blogs. The intuitive drag and drop builder makes form creation a breeze. You can also integrate with various tools like email marketing tools, payment processors, web apps, and other useful add-ons. Some of the awesome features that you will get with WPForms are:

create an unlimited number of forms.
Six editable form templates (more templates available for Pro and Elite license holders).
You can use conditional logic to control field visibility.
Easily create multipage forms.
Form spam protection features.
File upload field for accepting files via forms.
Advanced field types including date and time fields.
Ability to store, view and manage form entries in the WordPress Dashboard.
Multiple form entry submission confirmation options.
Ability to send form entry emails to multiple recipients.
Integration with Constant Contact email marketing service (more integration options available with Plus, Pro, and Elite licenses).
WPForms Pricing
WPForms have 4 premium plans, Basic, Plus, Pro, and Elite. Every Paid plan of WPForms lets you:
create an unlimited number of forms
split long forms into multiple pages
enable file upload
set conditional logic
manage your leads in one place
create constant contact forms
create custom captchas
have more form templates
add more confirmation and notification
I recommend you to buy their "Pro" plan to get maximum features and you also get the Sendinblue addon with this plan. If you are not satisfied they have 30 days money back Guarantee. Click here to buy WPForms
How To Automate Your Work With Zapier And WPForms (Easy Integration)

Integrate the Zapier with WPforms is very easy. All you need is to have both the Zapier and WPForms accounts. To integrate Zapier with WPForms, you need to buy a Pro version of WPForms. Click this special link to get upto a 50% discount.
Now follow these simple steps.
Step1. Install the WPForms
To Install WPForms, simply login to your WordPress admin panel. Click on "Plugins" then click "add new" in the search field type "WPForms" Now, install the plugin and activate it.
Now create a form as per your choice. You can create any kind of form including an opt-in form to create an email list.
Step2. Activate Zapier addon
To activate the Zapier addon make sure you have to buy a pro plan of WPForms. You'll need to go to WPForms » Settings and then click on the Integrations tab.
In this tab, you'll see a Zapier option. just click it to open more details. This is where you'll find the Zapier API key for your site.
Step3. Create a Zap in Zapier
In Zapier, the integrations you need to create are called "zaps". The next setup step is to create a zap that sends information from your forms to another service.
First, you'll need to log into your Zapier account. After logging into your account, you'll need to click the black + button in the upper left corner.
It will open the setup page for your new zap. You can give a name to your zap. Next, you'll need to select WPForms as your first app. Within the Choose App & Event search box, type WPForms. Then click WPForms from the results that appear.
Once your site is connected, Zapier will then prompt you to choose which account to use for your Zap. Click on the dropdown menu to select your site, and then click Continue. You can read the complete integration guide here.
Over to You
I hope you found this post helpful and gives you a clear idea about how to automate your work with Zapier and WPForms. You can easily integrate these two awesome tools and makes your business more successful. If you have any questions, ask me in the comment section. Don't forget to share it with your friends.