Are you looking for the best contact forms to use with Mailchimp? If yes, then this post is for you. In this post, I am going to tell you about the 7 best contact forms to use with Mailchimp.
Contact forms are a professional way to connect with your customers and website visitors. They can contact you by filling out the contact form. It is a very convenient way to receive feedback from your visitors without disclosing your contact email (Which may lead to spam emails in your inbox)
So, without wasting your time, let's check out the best contact forms that you can use with Mailchimp.
1. WPForms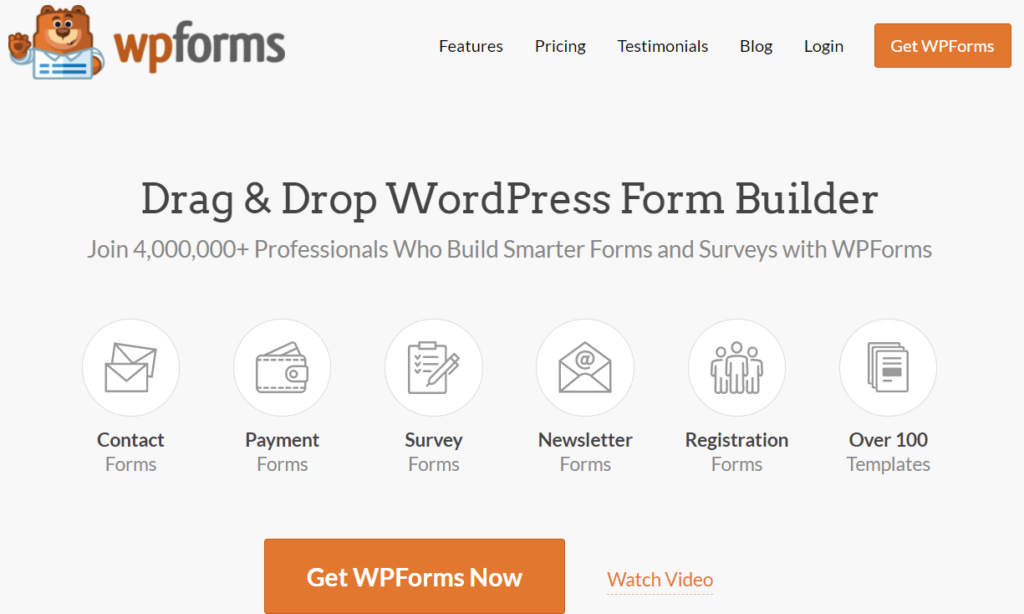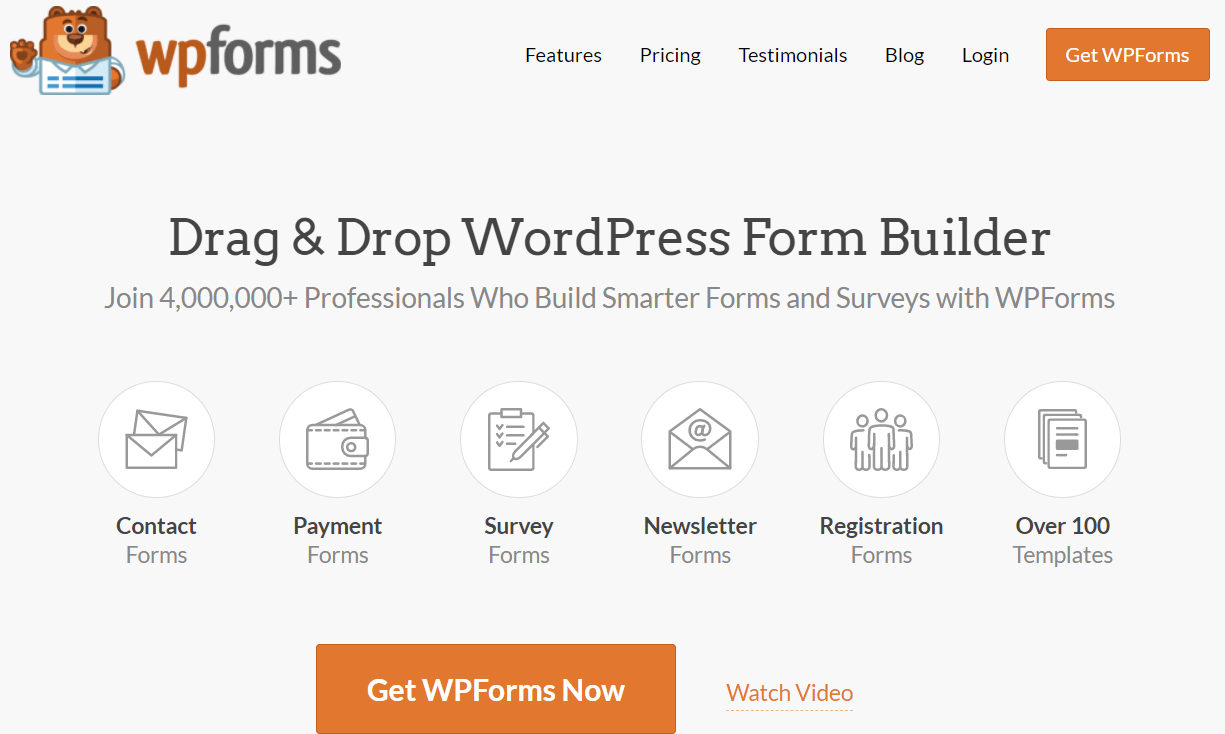 WPForms is one of the best and easy form builders. It is easily connected with your WordPress site using their plugin. It allows you to create beautiful contact forms, feedback forms, subscription forms, payment forms, and other types of forms for your site in just a few minutes.
The free version of WPForms has a number of basic form fields to choose from, along with an inbuilt contact form template. This template is ready for customization through the drag-and-drop form builder, although those seeking a standard contact form will be able to save their form and publish it on their website with no customization necessary.
Premium plans comes with some decent features and lots of customization options. Here are some of the premium features that you will get in their premium plans are:
Ability to create an unlimited number of forms.
Six editable form templates (more templates available for Pro and Elite license holders).
Ability to use conditional logic to control field visibility.
Ability to create multipage forms.
Form spam protection features.
File upload field for accepting files via forms.
Advanced field types including date and time fields.
Ability to store, view and manage form entries in the WordPress Dashboard.
Multiple form entry submission confirmation options.
Ability to send form entry emails to multiple recipients.
Integration with MailChimp email marketing service (more integration options available with Plus, Pro and Elite licenses).
You also receive the best customer support from WPForms. For those who liked a well-designed user experience, combined with a varied set of features, WPForms is indeed a forms plugin that is always top on their competitors.
2. Contact Form 7
Contact Form 7 is another one of the best contact forms builder. Contact Form 7 can easily manage multiple contact forms, and you can also customize the form and the mail contents flexibly with simple markup. The form supports Ajax-powered submitting, CAPTCHA, Akismet spam filtering, and so on.
With over millions of active installs, Contact Form 7 is clearly a best contact forms WordPress plugin. So let's take a look at some of its best features:
Create and manage multiple contact forms
Easily customize form fields
Use simple markup to alter mail content
Insert forms into any pages or posts using Shortcode
The plugin supports Akismet spam filtering, Ajax-powered submitting, and CAPTCHA
Lots of third-party extensions to add additional functionality
Easily integrate it with email marketing services like Mailchimp using an extension
You can use Contact Form 7 Mailchimp extension sends form submissions from Contact Form 7, Contact Form Entries, and many other popular contact form plugins to Mailchimp when anyone submits a form. Learn more at crmperks.com
3. Gravity Forms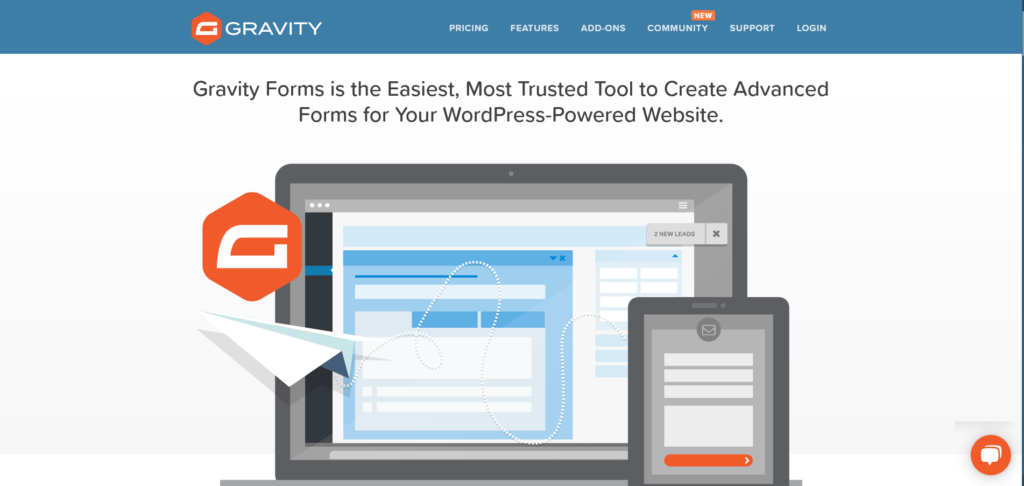 Gravity Forms is an easy-to-use, visual form builder, you can create and launch all kinds of forms on your WordPress website. You can build anything such as advanced contact forms, newsletters, user registration forms, surveys, quizzes, checkout forms, and more in a matter of minutes.
You can easily integrates with your favorite 3rd party services like HubSpot, MailChimp, Zapier, PayPal, Stripe, and many more. Gravity Forms is a trusted WordPress form builder with excellent customer support when you need it. It is Intuitive enough for a beginner to use, with advanced features that let a developer's imagination run wild. With Gravity Forms, the possibilities are endless.
Some of the best features of Gravity Forms include:
an intuitive drag-and-drop form builder interface
the ability to create multi-page forms with save-progress buttons
the ability to control form availability by date or number of entries
the ability to route entries to specific email addresses based on form contents
support for creating multiple form entry notifications
the ability to use conditional logic to control which form fields are displayed and where form entries are sent
the ability to accept WordPress post submissions through front-end WYSIWYG-enabled forms
the ability to create WordPress website user account registration forms
optimization of forms for mobile devices
an invisible anti-spam honeypot to reduce form spam
Gravity Forms is an impressive Contact form builder and there really is no limit to the types of forms you can create. The detailed settings and options give you full control over how your forms function, and, if you choose the premium plans, the add-ons provide plenty of scope for integration with third-party products and services.
4. JotForm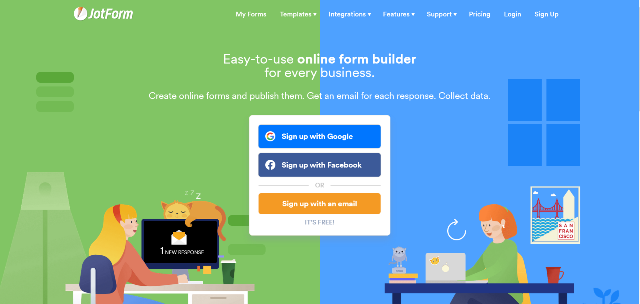 Trusted and used by over 9 million users, JotForm's form builder is the easy way to create and publish online forms from any device. The company offers 10,000+ ready-made form templates, 100+ integrations to 3rd party apps, and advanced design features making it the leading online form builder for organizations all over the world. It's popularly used to create payment forms, lead generation forms, registration forms, contact forms, application forms, and more.
JotForm pricing starts at $29.00 per feature, per month.There is a free version.JotForm does not offer a free trial.
Jotform comes with a wide range of app integrations that allow the software to work with most other business software. You can send notifications about form entries to Slack or Google, store submitted files in Dropbox, Google Drive, or Box, or accept payments through PayPal or Square. Mailchimp for email marketing services. There are close to 200 apps available, so chances are good you'll find what you need in Jotform.
It comes with a drag-and-drop form designer that is incredibly easy to use and makes fast work of customizing your forms.
5. Formidable Forms
Formidable Forms is another popular and best contact form for WordPress.This contact form plugin with advanced features. This solution aims to help you build more complicated forms to suit a wide range of more detailed and specific needs.
If you want to go beyond the simple WordPress contact form, Formidable Forms is the best all-in-one WordPress form builder for the job.
Formidable form builder has all the form building features you need to succeed at any scale.
Conditional logic
Advanced calculations
File uploads
Repeater fields
Registration forms
Star ratings
Dynamic prefilled fields
Multi-page forms
Built in captcha (reCAPTCHA v2 + honeypot)
Save and continue
The Formidable Views feature lets you format, filter, and show data submitted by users on the front-end of your site. This makes it ideal for building job-board listings, rating systems, calendars, and much more.
You can integrate it with mailchimp and other apps to streamline your online business.
6. Ninja Forms
Ninja Forms is another best and popular contact forms to use with Mailchimp. It works on a premium model, that means it has basic features for free but also has a paid version for more advanced needs.
Since the basic version of Ninja Forms is free, you're able to download it and activate the plugin on as many WordPress sites as you'd like. This makes it easy to build a simple contact form, for instance.
The features of premium add-ons helps you to extend the functionality of your forms such as:
Build dynamic forms with conditional logic.
Create multi-part forms.
Build forms with a drag and drop interface.
Allow users to upload files.
Integrate with Zapier.
Add payment options.
Integrate with Mailchimp
There's also a detailed documentation to help you set your forms up.
While the base Ninja Forms plugin is free, the addons are not. This means you'll have to upgrade to the pro version to do more than create a basic form.
Ninja Forms Pricing
Ninja Forms is a free contact form plugin, but to get the more features and addons, you'll need the premium version which starts at $99 per year.
7. Typeform
Typeform is another one of the best online form builders that comes with easy to use form builder. Typeform is a SaaS company that specializes in online form building and online surveys.
It is very easy to use – especially in the case if you create multiple daily items for your site – it is quite intuitive and allows using many pre-configured templates and also has a high-ranked WordPress Plugin that makes it easy to put your content on WordPress sites.
Its interactive look and feel allows to add images to poll and survey items in many different ways – use images as an introduction to the item questions, or even use multiple images in a form
Some of the best features that come with Typeform are as follows:
360 Degree Feedback
Data Analysis Tools
Email Distribution
Feedback Management
Live Results Tracking
Mobile Survey
MailChimp Integration
Multiple Question Types
Online Polling
Question Branching
Reporting/Analytics
Skip Logic
Support Audio/Images/Video
Survey/Poll Management
Typeform comes with both free and paid plans. If you want to try their features than you should go with their free plan. But remember it has some limited features.
Their premium plans start with $35 per month which comes with some professional features and integrations with 3rd party apps and plugins.
Over to You
These are some of the best contact forms to use with Mailchimp. I personally recommend you to go with WPForms as it comes with many pro features and easy to integrate with WordPress. The price is also very competitive.
Don't forget to share the post if you found it helpful. If you have any questions ask them in the comment section.